From the Land of The Rising Sun, comes new hope for Iran. And possibly doom for OPEC in the near run.
As Saudi Crown Prince Mohammed bin Salman and his distinguished Energy Minister Khalid al-Falih turn on their charm offensive to convince Russian President Vladimir Putin that more output cuts by Moscow will be necessary to save oil prices from a collapse, Iran is laying out the rug for an equally important guest.
Japan's Abe In Tehran To Make Peace For Trump
Japanese Prime Minister Shinzo Abe will be in Tehran from today through Friday to hold talks with President Hassan Rouhani, before meeting Iran's Supreme Leader Ayatollah Seyyed Ali Khamenei. The first Japanese premier to set foot on Iranian soil since the 1979 Islamic Revolution, Abe's visit will be historical even without what he hopes to achieve: making peace between Tehran and the U.S.
Jalal Sadatian, a former Iranian diplomat commenting on Abe's visit in an interview with the Iranian Diplomacy website, made clear that the Japanese premier wasn't in town to sketch out a new global nuclear deal that would reset relations between the Rouhani and Trump administrations.
Said Sadatian:
"Iraq, Kuwait, Oman, Switzerland and Japan are not after bringing Iran and the U.S. to the negotiating table with an outcome like that of the Obama period."
He was referring to the Joint Comprehensive Plan of Action (JCPOA), Obama's signature accord for Iran, which Trump tore up soon after entering office, calling it a "horrible, one-sided deal that should never, ever have been made."
Aside from Japan, the other countries mentioned by Sadatian have tried to help mend Tehran-Washington relations, which hit their worst in four decades after Trump's canceled the Obama-era nuclear deal in May 2018 and imposed sanctions against Iranian oil exports. Separately, German Foreign Minister Heiko Maas is also in Iran to try and salvage the original 2015 nuclear deal.
Sadatian said Abe would attempt to alleviate repercussions from the U.S.-Iran crisis that were being felt globally. Geopolitical tensions spiked in the Middle East last month as the U.S. strengthened its military presence in the Persian Gulf in anticipation of what it said could be an Iranian attack. The Pentagon also accused Iran's Revolutionary Guard of sabotaging four oil vessels in the Gulf in early May. Iran has denied both.
While U.S.-Iran tensions have rippled across the globe, the real repercussions felt by the world are oil prices that may be higher than warranted because of the face-off.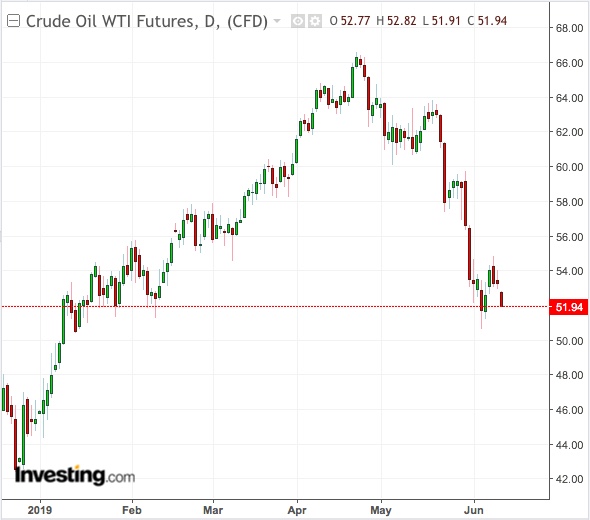 Iran's oil exports alone are about a million barrels below capacity because of the U.S. embargo. The Trump administration has sanctions on Venezuelan crude shipments too, in an attempt to force leadership change in Caracas. These actions have been a boon to OPEC, particularly to the cartel's de facto leader Saudi Arabia, which has concurrently cut production with Russia to spark a rally of as much 40% in crude through April, after a price crash of just as much in the fourth quarter of 2018. The rally has since cooled and the Saudis need the Russians' help to embark on a new round of cuts through the year end.
But even before Moscow makes its decision public at an OPEC meeting due in the next two weeks—or later, depending when the Russians want it—there's a growing feeling that U.S-Iran nuclear negotiations might be announced, surprising the world.
Few things could be more bearish for oil if that occurs. There's good possibility for such talks to happen, given the economic difficulties faced by Iran from Trump's sanctions and the president's need to proclaim victory over a deal after his inability to resolve the trade war with China.
Trump Keen To Ensure Oil Doesn't Rally Too Much
There's another reason why Trump would want to start talks with Iranian—to ensure crude oil prices don't get as high as they did in April, pushing U.S. pump prices to levels that could hurt his reelection bid next year. Crude futures hit 2019 highs last month, with U.S. West Texas Intermediate reaching $66.60 per barrel and Brent hitting $75.60. Trump has made clear in multiple tweets that he isn't at all fond of OPEC and its style of managing oil prices through supply cuts.
Adding to the speculation that Trump might be closing in for a deal with Tehran is the president's recent trip to Tokyo where Abe had personally offered to mediate in the crisis. Trump had even suggested at that time that the Iranians might be keen to talk, though the Rouhani administration batted away the idea then.
But Abe in Tehran could change their minds.
Sadation acknowledged as much in his interview with the Iranian Diplomacy website, even as he sought to downplay the Japanese premier's role as an enlarged ambassador for Trump.
The former diplomat said "although this stance by the White House cannot be trusted", Abe's presence "could signal a positive atmosphere … that could at least ease the tensions."
Iran's Deputy Foreign Minister Abbas Araqchi and Mohammad Hossein Farhangi, a lawmaker in Tehran, concurred in remarks made separately.
Said Araqchi in a talk with NHK:
"Japan would probably be able to make Americans understand the current situation."
Farhangi added:
"Given the American officials' recent climb-down, the Japanese prime minister could be carrying a new message from them because it is the Americans that need to act in good faith."

Written By: Investing.com